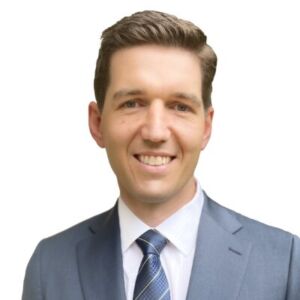 Dr Matthew Rackham – Spinal Orthopaedic Surgeon
MBBS FRACS (Orthopaedics) FAOrthA
Dr Matthew Rackham is an Australian-trained Orthopaedic Spine Surgeon, specialising in the management of all disorders affecting the adult spine. He uses an evidence based approach to the management of his patients and works with patients and their General Practitioner to optimise every aspect of a patient's spinal care.
Matthew graduated from the University of Adelaide and completed his Orthopaedic training in South Australia. Matthew then completed post-fellowship training in spine surgery at the Royal Adelaide Hospital and at Gold Coast Spine. His experience includes management of the full range of disorders and surgical options available for treatment of the cervical, thoracic and lumbar spine.
Matthew takes a considered approach to every patient and believes in matching the treatment with the pathology and expectations. Every patient and their condition is different and to assist in good shared decision making, Matthew collects patient reported outcome measure (PROM) data. This data helps Matthew and his patients make well informed and evidence based treatment decisions.